Home
New Age Products
The Essenes
Christmas Spirits
Why are we afraid of the Spirit World?
Spirits in my Great Nephews Home
Living With Spirits
How can I tell what type of spirit it is?
The Sixth Sense
Occult Symbols, Magical Symbols
Ghosts, Earthbound Spirits and Much More
Orbs do the different Colors mean something
Basic Ghost Investigating
First Faked Photographs of Ghosts
Ley lines Mystical Energies
Luc Goulets Photographs
Mediums
What Crystals Can Help With Getting Rid of Negative Spirits?
Sandie LaNae
Sandie LaNae Page 2
Mysteries, Monsters & Myths of The World Page 1
Mysteries, Monsters & Myths of The World Page 2
Mysteries, Monsters & Myths of The World Page 3
Mysteries, Monsters & Myths of The World Page 4
Mysteries, Monsters & Myths of The World Page 5
Mysteries, Fairies,Gnomes, Elves and Gargoyles
My Haunted Mirror
Theresa's TV Show Haunted Moments
Live Ghost Webcams
Paranormal Investigations TV Channel
Unexplained TV
ABOUT: Theresa F Koch M.S. in Parapsychic Science
Radio Interview with Theresa F Koch
The Healing Spirit
More Mausoleum Photographs
PARANORMAL TERMS & INFORMATION
PARANORMAL PHOTOGRAPHY NEWS
Paranormal Photography News
Paranormal Links and Awards
BOOKS BY THERESA
Products
GUESTBOOK AND COMMENTS
The Camper
Photographs taken by, Twelve Year Old
Jersey Ghost
Africa
Al-Can
Angels
Australia 1
SCOTLAND 1
Alabama
ALASKA
ARIZONA
Arizona 2
Arizona-Prescott
Arkansas
AUSTRALIA 2
CANADA 1
Canada 2
Canada 3
CALIFORNIA
House of Cenote
Chickamauga Battlefield
Christine Slaters Haunted House
Christine Slaters Haunted House 2
Christine Slaters Haunted House 3
United Kingdom 1
United Kingdom 2
Costa Rica
Connecticut
Day Woods Spirit Photography
Delaware
Ectoplasmic Mist
Edgar Cayce's Chilling Visions
SIGNS
ENGLAND
ESTONIA
Faces in the Mist
FLORIDA
Galveston, Texas
Georgia
Ghost Poses with Girl
Greece
Grimm Reaper
The Anguished Man - Haunted painting
HAWAII
IDAHO
Illinois
The Maherdrahl Cemetary Lochinisland, Northern Ireland, Foothills of the Mountains of Mourne
INDIANA
IRELAND
Jerome's Old Childrens Hospital
Kayla's Spirits
Kitchen Ghost
KENTUCKY
Leonard Schwartz New York Photographs
Lemp Mansion
Lizzie Borden House
Little Girl Ghost
Hospital Girl
Living Room
Louisiana
Mancester
Marie Bolts Ghost Photography
MASSACHUSETTS
Mexico
MICHIGAN
MINNESOTA
Many Spirit Photographs of Interest
Many More Spirit Photographs of Interest
Missouri
Mississippi
Montana
Mother and Baby
Mountain View Cemetery
NEBRASKA
NEW HAMPSHIRE
Niagara Falls
NORTH CAROLINA
North Dakota
NEW JERSEY
NEW YORK
UTAH 1
OHIO
Oklahoma
OREGON
ORBS
ORB comes up to greet me January 21 2012
Phantom Ships
Possession
UNITED KINGDOM 3
Pennsylvania
Haunted Queen Mary
UTAH 2
Ruth Barron's Photographs
RUSSIA
Sandies Family of Spirits
SCOTLAND 2
Serbia
South Carolina
SPAIN
Stratford-Upon-Avon in UK
Sweden
TENNESSEE
TEXAS
Tombstone
Terry Carlucci Eaglefeather's Spirit Photographs
Tia Morrison's Photograph
Tuscany
Trina's Ghost
Videos & Evps
Vermont
Vortex
THE WHALEY HOUSE
The Whaley House Part 2
The Whaley House Part 3
JEROME'S GRAND HOTEL
WASHINGTON
WEST VIRGINIA
West Virginia
West Virginia Part Two
West Wales,UK
Winery
Yuma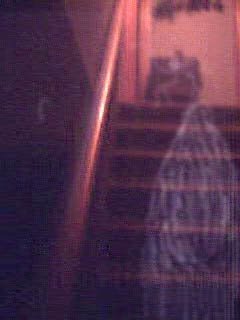 ~*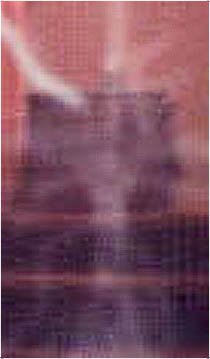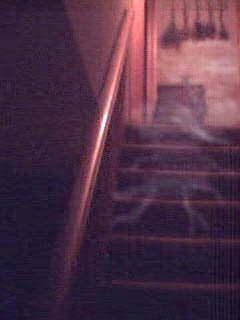 Massachusetts Ghosts
About 2 years ago I got a divorce after 32 years and moved back into my childhood home that my parents had left me upon there death 3 years earlier. They were very loving parents and died within 5 mos of each other. Quite devastating for an only child I shall tell you :(

Anyway -- things were going along well. Until I met a wonderful man and spent some time with him at his home. When I would return to my home - I would find that a large statue of Jesus - about 3 1/2 feet tall - that was at the top of the stairs on an antique table had moved half way down the stairs. This really freaked me out. I put the statue back and called my older son to come and help me check out the house for burglars. All was fine.

About 2 weeks later - this happened again - but this time there was a picture under the statue of my dead parents (that had been in a frame in my room). I am positive that my loving parents would not have wanted to scare me so badly. All in all -- the movement happened around 4 times. I moved the statue down to the 1st floor and it didnt move again.

But - in the middle of all this - I had my son check my house and it moved from the top of the stairs to the middle - he put it back when he got there - and states that it moved again while he was there. He had his digital camera with him - and took some photos. These photos scare the daylights out of me.

I have since moved out of the house - not because of this - and have rented it.
Cyn Tucker Massachusetts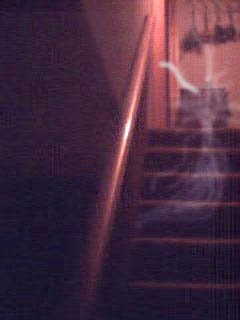 THANK YOU FOR VISITING~`*