Home
New Age Products
The Essenes
Christmas Spirits
Why are we afraid of the Spirit World?
Spirits in my Great Nephews Home
Living With Spirits
How can I tell what type of spirit it is?
The Sixth Sense
Occult Symbols, Magical Symbols
Ghosts, Earthbound Spirits and Much More
Orbs do the different Colors mean something
Basic Ghost Investigating
First Faked Photographs of Ghosts
Ley lines Mystical Energies
Luc Goulets Photographs
Mediums
What Crystals Can Help With Getting Rid of Negative Spirits?
Sandie LaNae
Sandie LaNae Page 2
Mysteries, Monsters & Myths of The World Page 1
Mysteries, Monsters & Myths of The World Page 2
Mysteries, Monsters & Myths of The World Page 3
Mysteries, Monsters & Myths of The World Page 4
Mysteries, Monsters & Myths of The World Page 5
Mysteries, Fairies,Gnomes, Elves and Gargoyles
My Haunted Mirror
Theresa's TV Show Haunted Moments
Live Ghost Webcams
Paranormal Investigations TV Channel
Unexplained TV
ABOUT: Theresa F Koch M.S. in Parapsychic Science
Radio Interview with Theresa F Koch
The Healing Spirit
More Mausoleum Photographs
PARANORMAL TERMS & INFORMATION
PARANORMAL PHOTOGRAPHY NEWS
Paranormal Photography News
Paranormal Links and Awards
BOOKS BY THERESA
Products
GUESTBOOK AND COMMENTS
The Camper
Photographs taken by, Twelve Year Old
Jersey Ghost
Africa
Al-Can
Angels
Australia 1
SCOTLAND 1
Alabama
ALASKA
ARIZONA
Arizona 2
Arizona-Prescott
Arkansas
AUSTRALIA 2
CANADA 1
Canada 2
Canada 3
CALIFORNIA
House of Cenote
Chickamauga Battlefield
Christine Slaters Haunted House
Christine Slaters Haunted House 2
Christine Slaters Haunted House 3
United Kingdom 1
United Kingdom 2
Costa Rica
Connecticut
Day Woods Spirit Photography
Delaware
Ectoplasmic Mist
Edgar Cayce's Chilling Visions
SIGNS
ENGLAND
ESTONIA
Faces in the Mist
FLORIDA
Galveston, Texas
Georgia
Ghost Poses with Girl
Greece
Grimm Reaper
The Anguished Man - Haunted painting
HAWAII
IDAHO
Illinois
The Maherdrahl Cemetary Lochinisland, Northern Ireland, Foothills of the Mountains of Mourne
INDIANA
IRELAND
Jerome's Old Childrens Hospital
Kayla's Spirits
Kitchen Ghost
KENTUCKY
Leonard Schwartz New York Photographs
Lemp Mansion
Lizzie Borden House
Little Girl Ghost
Hospital Girl
Living Room
Louisiana
Mancester
Marie Bolts Ghost Photography
MASSACHUSETTS
Mexico
MICHIGAN
MINNESOTA
Many Spirit Photographs of Interest
Many More Spirit Photographs of Interest
Missouri
Mississippi
Montana
Mother and Baby
Mountain View Cemetery
NEBRASKA
NEW HAMPSHIRE
Niagara Falls
NORTH CAROLINA
North Dakota
NEW JERSEY
NEW YORK
UTAH 1
OHIO
Oklahoma
OREGON
ORBS
ORB comes up to greet me January 21 2012
Phantom Ships
Possession
UNITED KINGDOM 3
Pennsylvania
Haunted Queen Mary
UTAH 2
Ruth Barron's Photographs
RUSSIA
Sandies Family of Spirits
SCOTLAND 2
Serbia
South Carolina
SPAIN
Stratford-Upon-Avon in UK
Sweden
TENNESSEE
TEXAS
Tombstone
Terry Carlucci Eaglefeather's Spirit Photographs
Tia Morrison's Photograph
Tuscany
Trina's Ghost
Videos & Evps
Vermont
Vortex
THE WHALEY HOUSE
The Whaley House Part 2
The Whaley House Part 3
JEROME'S GRAND HOTEL
WASHINGTON
WEST VIRGINIA
West Virginia
West Virginia Part Two
West Wales,UK
Winery
Yuma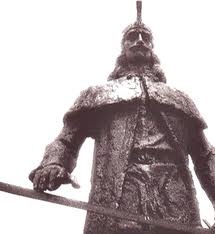 The Real Dracula
Vlad the Impaler did not resemble the stereotypical Dracula character we think of today. Having lived from 1431 to 1476, Vlad the Impaler was a ruler of Wallachia, a region of Romania. Vlad the Impaler was also known as Vlad III and Vlad Tepes. He was a prince known for his cruelty and propensity to impale anyone who got in his way. In Romania, the real Dracula is known as a patriotic figure who was victorious against his enemies and who fought for his country.
The Making of a Real Dracula
Raised in Targoviste, Vlad and his brother Radu were sent away as hostages. It is during this time as a captive that Vlad is thought to have formed his bloodthirsty tendencies. Vlad returned to Wallachia to be crowned at the Princely Court in Targoviste in the year 1456. Here the real Dracula sought retribution for his captivity by impaling Turks invited to dine with him on Easter Sunday.
Vlad the Impaler
Word of Vlad's merciless cruelty spread around Europe due to the use of the printing press. The real Dracula used the impaling technique on his enemies, to scare his enemies, to enforce the laws, and to eliminate complaints. It is said that he would wander among the common people in disguise and test the honesty of the merchants by tempting them with overcompensation.
While Vlad ruled from Targoviste, which was the capital of Wallachia at this time, Vlad declared war on the Turks, but reportedly frightened off their invasion by displaying a field of some 20,000 impaled captives from Turkey and Bulgaria.
The Real Dracula's Demise
The demise of the real Dracula can perhaps be attributed to his brother Radu, who wanted to form an alliance with the Turks once more. They turned on Vlad, and, it is said, sent his head to the Sultan as a gift. His body is supposedly buried in Snagov in an unmarked tomb at Snagov Monastery.
Bram Stoker's Dracula
Bram's Stoker was inspired by a heightened interest in vampirism at the end of the 19th century. He researched Romania thoroughly, as well as their folklore about vampires, and developed the character "Count Dracula." While Vlad the Impaler is referred to as the real Dracula, it is of note that Vlad the Impaler's father was called Vlad Dracul.
The Folklore of Vampirism
The folklore of vampirism is still alive in Romania today. Usually identified by a body that refuses to decay, vampires are undead corpses who haunt the living. Feasting on a victim's blood is not necessary in Romanian folklore for vampires to infect their victims--it is thought that the stare or touch of a vampire is enough to make someone else a vampire.
THE LEGEND OF MOTHMAN
THE LEGEND OF MOTHMAN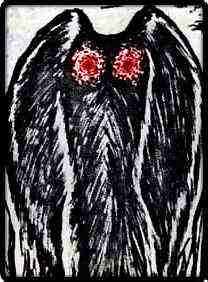 SKETCH OF MOTHMAN

The state of West Virginia has played home to one of the most bizarre "pseudo-cryptids" ever reported, the unusual - but by no means, unique - Mothman.
The first sighting came in the early 1960s. A woman was driving along Route 2, near the Ohio River, with her father. As she neared the Chief Cornstalk Hunting Grounds, a large man-shaped figure walked out onto the road. As the woman slowed her car, the figure spread two large wings and took off. Ironically, the witness did not report the incident - "Who would believe us, anyway?"
The first sighting which received publicity, though, was one in 1965. A woman living near the Ohio River related how her son had told her one day of seeing "an angel" outside. She thought nothing more of it until about a year later.
In the summer of 1966, a doctor's wife in the same general area said that she had seen a six-foot long thing resembling a "giant butterfly". On November 12, five gravediggers (how appropriate a profession!) saw something which looked like a "brown human being" fly out of the trees near Clendenin. One of the witnesses, Kenneth Duncan, said that they watched the creature for almost a minute.
On the 14th of the month, Salem resident Newell Partridge saw two red objects hovering above a field. His German Shepherd, Bandit, took off into the field and was never seen by Partridge again.
The next night, Mr. and Mrs. Roger Scarberry and Mr. and Mrs. Steve Mallette were driving near the "TNT Area", near the town of Point Pleasant. A tall figure stood by the side of the road. "It was shaped like a man, but bigger," said Mr. Scarberry. "Maybe six and a half or seven feet tall. And it had big wings folded against its back." His wife commented on its huge red eyes, "like automobile reflectors."
Mr. Scarberry, who was driving, took off in his car at "better than a hundred miles per hour," the figure spread its wings and flew after the car. It didn't seem to flap its wings at all, and its wingspan was over ten feet. Mrs. Mallette said that it made a squeaking sound, "like a big mouse." The four also noted that a dead dog had been lying by the side of the road, but was gone when they returned.
They went to the offices of the Mason County sheriff and reported their sighting. Deputy Millard Halstead returned to the TNT Area with the four, and said that as he passed the spot where they had initially seen the figure, his police radio made a sound similar to a speeded-up record.
The TNT Area, which seemed to be a sort of home for the "Mothman," as it was quickly dubbed by the press, is a large tract of land. Small concrete "igloos" dot the landscape, used during World War II to store ammunition. The TNT Area is adjacent to the 2,500 acre McClintic Wildlife Station. The entire area is covered with dense forest, steep hills, and riddled with tunnels.
The area is also sparsely populated. One of the families living in the area is that of Ralph Thomas. On the 16th, at about 9:00 pm, Mr. and Mrs. Raymond Wamsley, Mrs. Marcella Bennett, and Mrs. Bennett's daughter, Tina, were visiting the Thomases. On the way there, they watched a red light which circled the TNT Area. When the car pulled up in front of the Thomas', it disturbed something.
It seemed as if it had been lying down. It rose up slowly from the ground. A big gray thing. Bigger than a man, with terrible glowing red eyes.
The witnesses ran to the Thomas home, where they were let in by the three children. The figure shuffled along behind them, coming onto the porch and looking through the window. Mr. Wamsley called the police, but the thing had, of course, vanished by the time they arrived. Mrs. Bennett, who lives at the edge of Point Pleasant, says she has heard the creature on other occasions. She describes the sound it makes as "like a woman screaming."
Paul Yoder and Ben Enochs, two firemen, said they had seen Mothman in the TNT Area on the 18th. Richard West, of Charleston, called the police on November 21. A winged figure was sitting on the roof of his neighbor's house, he said. The six-foot tall figure had a wingspan of six or eight feet and red eyes. It took off straight up, "like a helicopter."
Tom Ury was driving along Route 62, near the TNT Area, on the morning of November 25. He saw a large, grayish figure standing in a field. Then it spread two large wings, lifted straight into the air, and flew over Ury's car at an altitude "three telephone poles high"--probably about 50 or 60 feet. The next day, Mrs. Ruth Foster of St. Albans said the creature was standing in her yard near her porch. Her description tallys with West's. The same day, people in Lowell, Ohio, saw several large birds flying over Cat's Creek. The three witnesses followed the birds in their car and said that they were "...dark brown with some light flecks. Their breasts were gray and they had five- or six-inch bills, straight, not curved like those of hawks or vultures." The birds seemed to have reddish heads.
And still more sightings came. On November 27, on the way home from church, Connie Carpenter saw a grayish figure standing on the golf course near Mason. The creature took off and flew straight towards her car. She was one of few who actually saw the creature's face, although her description--"It was horrible"--doesn't help much. Another sighting took place that same night in St. Albans, where two girls saw the creature near a junkyard. The creature flew after them.
On December 4, five pilots at the Gallipolis, Ohio, airport saw some sort of giant bird flying at about 70 miles per hour. Its wings weren't moving, and unlike other witnesses they commented on a long neck.
Mabel McDaniel (coincidentally, mother of Linda Scarberry, one of the first witnesses) saw Mothman on January 11, 1967. Mrs. McDaniel said that at first the creature looked like "an airplane, then I realized it was flying much too low. It was brown and had a wingspread of at least ten feet." In March, an Ohio man claimed his car was chased by a flying creature.
The last sighting seems to have come on November 2, shortly after noon. Mrs. Ralph Thomas (from Bennett's sighting) heard a "squeaky fan belt" outside her home and saw a "tall gray figure" moving among the concrete domes in the TNT Area.
Scattered sightings continued for several years afterwards. In 1968, especially, a number of hairy humanoids with glowing eyes were seen on Jerrico Road. And on September 18, people in the TNT Area supposedly saw Mothman once more--putting in his last appearance, it seems.
In late 1966, when the Mothman reports started to die down, other phenomena started up in the area. Several UFOs were seen near Point Pleasant, animals were mutilated in surrounding areas, and Mothman witnesses reported poltergeist and "men in black" phenomena. This has led many a researcher to speculate on a connection between Mothman and UFOs.
But no discussion of the Mothman phenomenon would be complete without recounting the story of the Silver Bridge. On the evening of December 15, 1967, the Silver Bridge, which crossed the Ohio River at Point Pleasant, collapsed in rush-hour traffic. Over forty-six cars fell into the river. It was the biggest disaster ever to hit Point Pleasant.
Of course, it was only a matter of time before people began to connect this disaster with the Mothman sightings. Was Mothman some sort of warning sign of the impending disaster? Was the entire saga somehow connected with the UFOs seen in the area?
As a final postscript, New Haven farmer Ernest Adkins reported something very odd indeed in April of 1969. He found his eleven-week-old beagle lying dead in his front yard. "There was no evidence the dog died in a fight," Adkins said. What made it strange was the fact that the dog's chest was chewed open, and its heart was lying outside.
Not surprisingly, most scientists scoffed at this theory. They said it was probably just some normal kind of bird; the favored culprit was a sandhill crane. These large birds have reddish patches on their heads (accounting for Mothman's "red eyes") and a large specimen would reach roughly the size attributed to Mothman. But other birds were found in the area that could account for the sightings. In July of 1967, several boys found a large vulture near New Haven. And at Gallipolis Ferry, a farmer shot a rare bird indeed--an Arctic snow owl. The owl was two feet tall and had a five-foot wingspan.

SOURCE-Keel, John A. The Complete Guide To Mysterious Beings (New York: Doubleday, 1994). pp 245-274.


The Banshee
The Banshee (pronounced /ˈbænʃiː/, BAN-shee), from the Irish bean sídhe [bʲæn ˈʃiː] ("woman of the síde" or "woman of the fairy mounds") is a female spirit in Irish mythology, usually seen as an omen of death and a messenger from the Otherworld. Her Scottish counterpart is the bean shìth (also spelled bean-shìdh).
The aos sí (people of the mounds, people of peace) are variously believed to be the survivals of pre-Christian Gaelic deities, spirits of nature, or the ancestors.
The story of the bean-sidhe began as a fairy woman keening at the death of important personages. In later stories, the appearance of the banshee could foretell death. Banshees were said to appear for particular Irish families, though which families made it onto this list varied depending on who was telling the story.
The banshee can appear in a variety of guises. Most often she appears as an ugly, frightening hag, but she can also appear as a stunningly beautiful woman of any age that suits her. In some tales, the figure who first appears to be a "banshee" is later revealed to be the Irish battle goddess, the Morrígan. The hag may also appear as a washer-woman, or bean-nighe (washing woman), and is seen washing the blood stained clothes or armour of those who are about to die.
Although not always seen, her mourning call is heard, usually at night when someone is about to die and usually around woods. In 1437, King James I of Scotland was approached by an Irish seer or banshee who foretold his murder at the instigation of the Earl of Atholl. This is an example of the banshee in human form. There are records of several human banshees or prophets attending the great houses of Ireland and the courts of local Irish kings. In some parts of Leinster, she is referred to as the bean chaointe (keening woman) whose wail can be so piercing that it shatters glass. In Kerry in the southwest of Ireland, her keen is experienced as a "low, pleasant singing"; in Tyrone in the north, as "the sound of two boards being struck together"; and on Rathlin Island as "a thin, screeching sound somewhere between the wail of a woman and the moan of an owl".
The banshee may also appear in a variety of other forms, such as that of a hooded crow, stoat, hare and weasel - animals associated in Ireland with witchcraft.
In Irish legend, a banshee wails nearby if someone is about to die. There are particular families who are believed to have banshees attached to them, and whose cries herald the death of a member of that family.
Traditionally, when a citizen of an Irish village died, a woman would sing a lament (in Irish: caoineadh, [ˈkɰiːnʲə] or [ˈkiːnʲuː], "caoin" meaning "to weep, to wail") at the citizen's funeral. These women singers are sometimes referred to as "keeners" and the best keeners would be in much demand. Legend has it that for five great Gaelic families — the O'Gradys, the O'Neills, the O'Briens, the O'Connors, and the Kavanaghs — the lament would be sung by a fairy woman; having foresight, she would sing the lament when a family member died, even if the person had died far away and news of their death had not yet come, so that the wailing of the banshee was the first warning the household had of the death.
In later versions, the banshee might appear before the death and warn the family by wailing.[1] When several banshees appeared at once, it indicated the death of someone great or holy.[2] The tales sometimes recounted that the woman, though called a fairy, was a ghost, often of a specific murdered woman, or a woman who died in childbirth.[3]
Banshees are frequently described as dressed in white or grey, often having long, fair hair which they brush with a silver comb, a detail scholar Patricia Lysaght attributes to confusion with local mermaid myths. This comb detail is also related to the centuries-old traditional romantic Irish story that, if you ever see a comb lying on the ground in Ireland, you must never pick it up, or the banshees (or mermaids — stories vary), having placed it there to lure unsuspecting humans, will spirit such gullible humans away. Other stories portray banshees as dressed in green, red, or black with a grey cloak.
Banshees are common in Irish and Scottish folk stories such as those recorded by Irish-American writer Herminie T. Kavanagh. They enjoy the same mythical status in Ireland as fairies and leprechauns. Banshees continue to appear in modern fiction that deals with mythology, folklore or the supernatural.
In Welsh folklore, a similar creature is known as the Hag of the mist
Yeti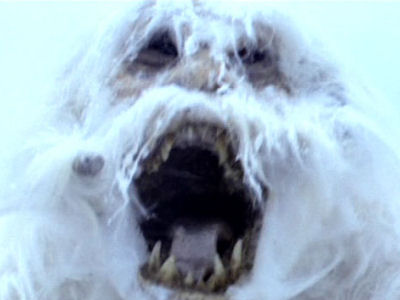 The Abominable Snowman of the Himalayas. In 1951, an expedition found a track on the Menlung Glacier between Tibet and Nepal, at an altitude of 6000 meters. The footprints they saw were 33 cm by 45 cm and were made by a foot which has 5 toes of which the inner toes were larger than the others. The heel was flat and exceptionally broad. The track itself appeared to be fresh so the footprints were not enlarged by melting snow. This was clearly shown by the many photographs they took. Although there were many doubts about these photographs, if they were believed to be true at all. But those who did belief were certain that was not made by any known animal.
Origin

The people of Nepal call it a "rakshasa" which is Sanskrit for "demon". According to them, stories of its existence date back to the 4th century BCE; references to the Yeti are found in a poem called 'Rama and Sita'. It has regularly been sighted since 1832. Yeti means "magical creature". The name 'The Abominable Snowman' however, was given to it by western newspapers who wanted to give their readers the feeling of terror which the creature supposedly causes in the valleys, crevices and glaciers of the Himalayas.
According to legends, there are three species: the Rimi (some 2,5 m), the Nyalmot (4,5 m) and the Raksi-Bombo (1,5 m). In spite of differences in size, the species have a general resemblance. The Yeti has reddish hair (although others claim it is gray), smells terrible and it is very strong (it throws boulders as if they were pebbles). It makes an ululating or whistling sound, and is sometimes heard roaring like a lion. The Yeti is rumored to be very fond of strong alcoholic drinks.
There are many uncertainties about its origin, whether it exists or not. Some say that the Yeti is a descendant of a race of giant apes, the 'gigantophitecus' who retreated into the Himalayas some 500.000 years ago. Another theory is that the Yetis are descendant of the A-o-re, an ancient people that fled into the mountains to escape their enemies. In the following millennia, they degraded to a race of monstrous creatures. Skeptics say that the tracks were made by ordinary animals like a bear or an ape.
Expeditions

Of the many expeditions set out to find it, was also that of Sir Edmund Hillary, the first ever to climb the Mount Everest. He funded this expedition himself, for he and his guide Tenzing Norgay had seen footprints of a Yeti on a previous expedition. Unfortunately, his expedition was as unsuccessful as those who had gone before. However, he brought back with him a borrowed artifact: the upper half of the skull of a Yeti. This scalp came from the Khumjung Gompa (monastery) in Nepal where it is kept as a relic. It is some 300 years old, 20 cm high and has a circumference of 65 cm. Scientists said it belonged to a serow (mountain goat) which lives in eastern Asia.
There have been many other expeditions, but on none of those they got so much as even a glimpse of the creature. However, just like the 1951 expedition, they found tracks of the Yeti, and made casts of its footprints. The lack of evidence did not keep the government of Nepal from officially declaring the Yeti to exist in 1961. It became their national symbol, and an important source of income. There are even stamps of the creature.
Who is Bigfoot or Sasquatch?
Regarding the origins of the words "sasquatch" and "bigfoot":

The term "sasquatch" is an anglicized derivative of the word "Sésquac", meaning "wild man". The original word, in the Stó:lõ dialect of the Halkomelem language, is used by the Coast Salish Indians of the Fraser Valley and parts of Vancouver Island, British Columbia.

Indian tribes across North America have a total of more than sixty different terms for the sasquatch.

"Bigfoot" was a journalistic term generated in the middle of the last century during a rash of sightings in Northern California. The word has come to be recognized widely.

Many different terms have been used by pioneers and later non-native inhabitants of North America, including "skookums" and "mountain devils".

The description given here is derived from a compilation of thousands of eye witness reports from the entire continent, some of astounding length, detail, and corroborative evidence; the Patterson movie, taken in 1967, and a recent computer-based image analysis of it; and statistical analysis of a large database accumulated over the last fifty years, primarily by John Green.

The sasquatch is a predominantly nocturnal animal and its night vision exceeds that of man substantially. It is probable that this increase in night vision is a function of a larger eye and pupillary size rather than a reflecting layer. The animals walk with ease in seeming total darkness, but forage during the day. An indication of their nighttime activity is the fact that they are seen as frequently during the night, if not more often, than during the day, despite the limited sight distance and detection by nocturnal observers.


Other Senses

In parallel with other large primates, sasquatch senses are acute but probably not more so than those of a human aborigine, e.g., American Indians before the deterioration of their senses by pollution and noise. They detect the approach of man by simply remaining still in forested environment, but there have been many occasions where a sasquatch failed to detect a resting person in full view, simply because the animal was preoccupied and the person did not move or make a sound.

The sasquatch seems hardened to pain and discomfort, living in, to our perception, disagreeable climates and walking through blackberry thickets, Devil's Club, icy streams, and sharp rocks without deviation, though they seem to value on occasion the soft comfort of mole hills, moss or a freshly graded berm of a forest road, as their footprints testify.

Diet and Digestion

The sasquatch is an omnivore with a substantial carnivorous component to its diet. They have been observed directly to eat leaves, berries, fruits, roots, aquatic plants and other vegetable matter, catch fish, dig up clams or ground squirrels, and prey on poultry, deer, elk and bear. In addition, they eat other odd items, such as young evergreen shoots, crayfish, road kill, meat or fish from human storage sites, hunter-killed game animals (these sometimes snatched in front of the hunter), and occasional garbage. They take an occasional livestock animal, but not with sufficient frequency as to produce organized persecution.

They appear to kill large prey animals by a blow with the fist, rock or stick or by twisting their necks, sometimes to the point of decapitation. Liver and other internal organs are their first targets. The remaining meat is sometimes stored on the ground under a haphazard shelter of sticks or lifted into tree forks above ground. No compelling evidence exists that they store food in any substantial way beyond this; only rarely has a sasquatch been observed carrying a fish some distance from its origin, or a deer, presumably into hiding.

Caloric requirements per gram of living matter decrease as a function of total mass of the animal. Nonetheless, the nutritional needs of an average sasquatch can be calculated to amount to about 5,000 calories per day. This amount can only be fulfilled by rather constant searching for food and especially by intermittent predation. Sasquatches have been seen both with substantial girth as well as looking decidedly skinny.

Drinking has been observed by small animals dipping their faces into the water, while adults commonly drink out of a cupped hand, or resort to a cupped leaf or a dry, hollow stem of a weed.

Their feces are sausage-shaped, up to 4" inches in diameter and up to three feet long, forming a folded heap. They are replete with numerous intestinal parasites, including hook worms, as well as small bones, hair of prey and ample vegetal matter. A sasquatch has been observed to wipe itself with its hand and lick its fingers briefly, a decidedly simian gesture.

Growth and Reproduction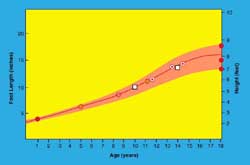 Through several longitudinal studies and incidental observations of footprints of family groups, an approximate growth scale has been constructed (Fig. 13). Sasquatch infants are born small ("like a 4 lb. preemie"), but are very fleet-footed at just a few years of age. The infant stays with the mother until puberty at age 10 or so, measuring about 6' in height by then. Offspring seem to be spaced about 5 years apart, as judged by the admittedly small sample of grouped footprints; thus, a smaller infant will have the company of an older sibling for some years. A young male and one barely maturing female, as evidenced by immature breasts, about 7' and 6' tall, respectively, were seen keeping solicitous company.

Mating has been observed primarily between May and June, mostly between established pairs, and there is a suggestion of the birthing time lying between February and May. The duration of pregnancy (probably near 9 months) is partly related to the average weight of the species. Birth has been (very rarely) reported to occur in the squatting position, with other individuals nearby. The spacing of offspring is presumably governed by lowered fertility in consequence of demand feeding as well as infant mortality. On two occasions, females were observed carrying a dead infant.

A sasquatch can hypothetically be expected to have a mean life expectancy of about 35 years, a number derived from a relationship that exists in mammals between body mass and length of life. Old animals have been seen to show all the signs of wear, i.e., "snaggle teeth", "worn dreadlocks", as well as thinned hair, deeply wrinkled skin and open sores. A dead animal, if unattended, can be expected to be consumed rapidly by various carnivores, the bones by rodents, the hair by moths and any remainder would fall prey to the acidic environment of the forests with no remnant left visible under seasonal leaf and needle fall.



Thank you for visiting