undefined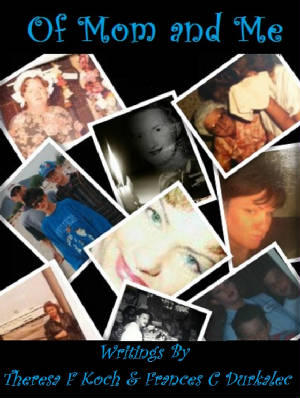 undefined
Announcing the release of my new book
Special introductory price for Mothers Day only I just found out it will be a $1.98 for Mother's Day only order yours now regularly $7.98
http://synergebooks.com/ebook_ofmomandme.html

OF MOM AND ME
Writings by
by Theresa Koch and Frances C. Durkalec

About Of Mom and Me...
In Of Mom and Me, Poet/Photographer Theresa Koch has produced a delightful edition of works written to fill both the heart and vision of the reader. Koch comes by her poetic bent naturally.

She says her mother was also a poet, and Koch has set the words filling her head down on paper since childhood. Completed with exquisite visions written out by this accomplished artist, each well-crafted verse composition found in Of Mom and Me is heartfelt and brings you into the mind of Koch.

Also shared are writings of her mother that takes you back to a different day in time and the challenges Durkalec had to encounter during the World War II era.

Author Bio
Available to purchase at~
Reviews

I just finished this book. It took me a little less than 24 hrs to read, nearly 500 pgs. it was SO GOOD, I could not put it down. I was so into learning more about Teri's childhood, teen years, adulthood, all the way up to now, including life as it happened, marriages, divorce, children, the paranormal, family recipes, her poetry, her Mom's poetry etc. It was a real page turner, meaning I read and read, just could not put it down. So very interesting. I could so see Teri in every page, even if I hadn't known her, she gave a good description of what was going on, who she is, who the others were/are and what is important to her on so many levels. Just excellent!I hated for it to end, it left me wanting more and more. This book helped me and will help others. I have struggled concerning my own gifts, I wondered the same things that Teri did, is it evil, am I evil??? Of course the answer is no which she so beautifully explained.I am so happy that this book written and published, what a blessing. I urge you all to get a copy today! It's just fantabulous! Well received by this author. Janet Caldwell

I also read The book Teri,and yes it kept me gasping for more ,so much in the book I could relate to in your younger day and it woke up my childhood in lots of ways .I also cried along with you and it brought me joy ! I love the picture of you in this book its so sweet and just so innocent sitting by the pool,loved that idea ..And I loved how you felt about your abilities and if you thought you were evil or something yeah I must admit I think that of myself to at times..But we are not its a gift and a blessing to pass on to others if they listen close,for we do have answers in our crazy life that we lead . I loved the most about your girlfriend who you are so bonded to till this day ,that to me was such a touching part in your life with her and than having to loose that friendship ,wow it brought me to tears and it was put across very well I felt your funny laughing friendship of a true friend that will never die! Thank you for sharing your life with who reads this Awesome Grand book,it details your life very well .I loved your book Teri and My mom is loving it to ..Thank you for adding my name to your book that was sweet and wonderful of you to do so Hugs- I love you Teri thank you for our lasting friendship and its a Honor knowing you and getting to you the rest of you .

Ok enough said Now everyone Get this book its a great read hard to put down once you start..
sincerely your friend Marie Bolt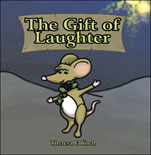 This is a wondrous tale for young and old alike, and soon to be a true Christmas classic for many generations to come. Travel with Stashu the Mouse on his journey with the Magi to Bethlehem to see the newborn King in this beautiful Christian story to be read over and over.


Softcover [$19.95]

Your Price: $19.95
See if you qualify for FREE shipping!
click books to purchase

BOOK REVIEWS
Author: author: m j hollingshead
The Psychic Soul by Theresa Jodray-Koch SynergEBooks, 2001 Highly Recommended From the heartfelt refrain found in the opening ode Land of the Deceased, to the 'Sienna sierra set before my weary eyes' beauty of the last sonnet Beautiful Sunday Glorious Day, The Psychic Soul offers the reader a rich tapestry of sights, colors, scents and emotions. Walking Lightly Across Glass brings the reader another glimpse into the poet's presence with the haunting line 'trying to make you understand.' Mellifluous Crimson Sky Bleeds Before Me is opulent in colors, conveying the reader to poise beside the poet as we gaze out into the vista before us. The piquant perkiness filling BRRRR is balanced with the depth found in the roundel Alaskan Landscape. The stanzas offer the reader a peek into the day of the poet as she trudges out into the ice and snow of that chilled land with her coffee in hand, dogs by her side and camera at the ready. In The Psychic Soul Poet/Photographer Jodray has constructed an enchanting issue of twenty three works of written art and photos to replenish both the heart and vision of the reader. Jodray comes by her poetical bent naturally. She says her mother was also a poet and Jodray has set the words filling her head down on paper since childhood. Completed with appealing artistry by this accomplished artist each well crafted verse composition found in The Psychic Soul is accompanied by one of Jodray's wonderful photographs taken in her present home of Alaska or from her extensive travel over the years. Accomplished writer Jodray has produced 4 books to date, writes for a number of on line submission sites, has a new book 'coming soon' and can be found with her camera or pen at the ready at any given moment. To learn more about Poet/Photographer Theresa Jodray you may visit her AuthorsDen site



Author: David Arthur Walters
I love these poems. There is nothing pretentious about them. I feel the generous nature of the poet is a personal gift to me.



Author: donna durkalec
these are very insightful.almost as if we have a foot there.



Author: Dallas Hodder Franklin
I love the deep spiritual undertones of your poems. They come to life and leave us comtemplating our own pasts, presents and futures. Excellent writing and photography as always! Nothing better, Teri!